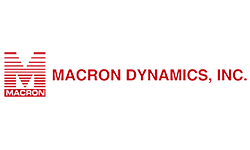 Macron Dynamics, Inc.
Visit us at booth #105
On behalf of Macron Dynamics, Inc., we are pleased to invite you to join us at Robotics Summit & Expo, taking place on
June 5-6, 2019 at the Seaport World Trade Center, Boston, MA.
Register Today!
Enter promo code MACRON to register at a 20% discount.
We hope to see you in Boston!